Superintendent's Message
---
Paramount Service Clubs
We are very lucky and thankful to have the support of a number of community service clubs who regularly provide our students with resources to assist them in their educational and social needs.
Recently, Paramount Unified School Board Member Linda Garcia and I were in attendance at the September meeting of the Paramount Womens Club, at which time the Club provided recognition for 2014 Paramount High graduate Lorena Moreno with a scholarship, that she will use in support of her studies at California State University Long Beach.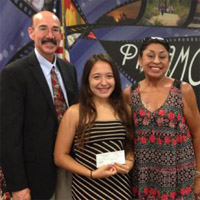 Other examples of the wonderful support by our service clubs include the Lions Club, who provide eye exams by Lions Club member, Dr. Andy Lim, as well as providing eyeglasses. The club generously pays for 100% of the cost. Additionally, the Lions Club provides scholarship support – this past year they provided $8,000 in scholarship support.
The Elks Club is an important member of the service club community and they support our third grade students through their promotion of literacy by way of their dictionary project, which entails providing students with their own personal dictionary. As with the other service clubs, scholarships and incentives are also made available on a monthly and annual basis.
The Paramount Rotary Club is another organization whose generous spirit is seen through their sponsorship of the annual Student Rotary Forum, which provides our high school students, with an opportunity to be recognized for the communication skills. Scholarships are also a mainstay of the Club's support for students and have been known to award as much as $20,000. The Club also provides sponsorship of students who attend the Rotary Youth Leadership Awards (RYLA) leadership camp, competitions in the arts, as well as other opportunities for students.
The students of the Paramount are fortunate indeed to have the support of a great and nurturing community!
Herman M. Mendez
Superintendent